Gabriel Fontaine

- Owner
Workaholic, resourceful and creative, there is little Gabriel can't do to give his clients the best service humanly possible. He is a role model for the entire team. Gab, as everyone calls him, finds time to stay in shape by road biking, running and cross-country skiing.

Talkena Wasungu

- Owner
Talkena is a goal guy and he won't give up until he achieves them. He has many years of business management experience, but he'll be the first to tell you that running this super shop-workshop is a humbling challenge. Customer service is his religion. He is also known as Joe Bike-Ski.

Josée Tremblay

- Manager
Have you ever seen a black and red arrow on the Estriade? If so, it's probably Josée Tremblay. Road biking is her business. If you think our store is well organized, a lot of the credit goes to Josée. To do so, she must constantly deal with the chaos left behind by the two owners.

Jean-Christophe Ducharme

- Head technician
The smooth running of one of the busiest workshops in Quebec is due to the expertise and discipline of Jean-Mich (his nickname). An iron fist in a velvet glove, JC is always the first to arrive and the last to leave. JC can as easily reassemble a DH fork as install an electric motor on your bike. Walking and biking are his two favorite sports.

Audrey Simard

- Shipping manager
The little one with glasses, as customers often call her, is Dey. On a daily basis, she ensures that orders and services are delivered to customers according to our promise of providing the best service. Dey is trained in bike mechanics at TechnoCycle and also sharpens ice skates. Oh, and she's also our Zwift specialist.

Camille Fontaine

- Administrator
Camille is Gabriel's sister. Her recent arrival in the team allows us to be even more efficient. She's really a credit and debit whiz. She rides a cyclocross bike that is way too big for her but don't even try to convince her that it is.

Alexandre Ducharme

- Senior technician
Alex is Jean-Christophe's brother and was previously the chief mechanic. He is back to school but he continues to give us a much appreciated hand. He is a patient technician who is not afraid of any technical challenge. Whether it's a road or mountain bike, don't try to follow him uphill.

Jérémy Lanteigne

- Senior technician
Jay has an amazing ability to learn. He knows all the specifications of the Shimano and SRAM groupsets of this world by heart. He's also a workhorse when it comes to ski and bike maintenance. He's always happy to help his customer ... right down to installing the bike on the customer's car. He rides a Giant Reign Advanced and gets out of his way when it goes downhill.

Simon Thibault

- Senior technician and counselor
A true legend in the sports world here in Granby, no distance is too great for Simon Thibault. Respected and known by everyone in town, he will be happy to advise you on the right bike or the right pair of skis. 

Kevin Déziel

- Senior technician and counselor
If you've ever been served by Kevin, you know that he is a true customer service enthusiast. And if it's mountain biking on top of that, it's clear you're an expert too. His music is loud, he talks loud, and there are no half measures with Kev. During his time off, you'll see him at Bromont on DH.

Hugo Lussier

- Senior technician and counselor
This summer, Hugo was on time for work the morning after his 400km Everesting of Mount Shefford. Don't even try to figure out how that's possible. He's been with us since the very beginning and can advise you on a Velec as well as your next ski touring package. He will be with us until he starts his new career as a firefighter.

William Lapointe-Bédard

- Technician
They call him Willy, or "Escaboy" because of his great size. Willy is a quiet force and we know we can always count on him. You'll pass him on the bike path on his beautiful vintage steel purple and yellow road bike.

Béatrice Ledoux

- Receptionist
The role of the receptionist is vital to the quality of our service. Beatrice does it wonderfully. Her dynamism when she says the word "hello" is quite unique as you may have noticed. She rides a road bike, mountain bike and skis.

Valérie Tremblay

- Receptionist
Val is also a hospitality specialist. Super well organized, she is always ready to help others in their work. She has been figure skating for several years now.

Yvan Dubuc

- Handyman
We would be nowhere if Yvan wasn't there to constantly help us reorganize the store. His specialties: the grinder, the hammer, the power bar and the circular saw. He rides his bike in summer and winter.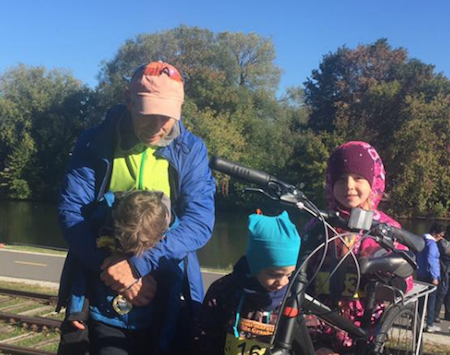 Roxanne Duchaine

- Cleaning
Roxanne is a ray of sunshine and her cleaning work is always appreciated. Roxanne rides her bike in the summer with her boyfriend.

Léopold Wasungu

- E-commerce
Our new e-commerce platform is now up and running and Leo is always making sure to improve the content. He is also an excellent bike technician and helps us during rush periods. He is also the proud father of Jackie, a 5 month old dog.

Valérie Hébert

- E-commerce
Valerie helps us to improve the content of our online store. Hardworking as she can be, she does this while managing her beauty care business. A leader like everyone would like to have in their team (she is with us).

Alexandre Gagnon

- Counselor
Alex is studying to become a sales representative. He has been with us for several seasons now. He explains it well and if he doesn't have an immediate answer to your question, he will do the necessary research. Alex plays field hockey and rides a road bike.

Angélique Wasungu

- Counselor
While completing her BAA at HEC, Angel works as a consultant for us. She practices road biking, mountain biking, and all kinds of sliding sports, which puts her in a perfect position to advise you in all departments of the store.

Ludovick Miclette

- Counselor
Ludo is passionate about mountain biking and knows all the models and brands. He is studying computer science. Another brave man who rides his bike in summer and winter.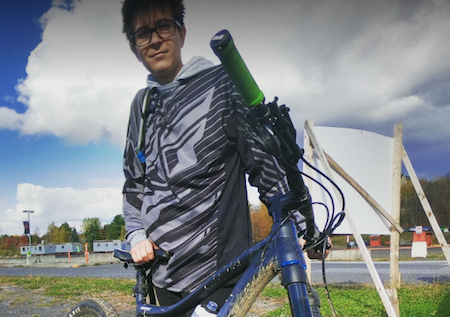 Thomas Méthot

- Technician and counselor
Thom has many years of experience on the team and knows every department in the store well. He is a fantastic ambassador through his extensive social network. Plus, he's punctual.

Olivier Marchand

- Counselor
Oli March has been with us since the beginning of the Flea Market Sports adventure. In addition to being a knowledgeable and much appreciated advisor to his customers, his brain is always coming up with great ideas for improvement for our products and services.

William Thibault

- Counselor
Our resident specialist for the scooter department, Will has been practicing this sport for several years. He has been a consultant with us since the early days and is also a student of construction.

Mathilde Ostiguy-Bélanger

- Counselor
Mathilde doesn't talk much but her eyes say it all. A goalie and skier, she recently joined our team of advisors. Very good acquisition!

Philippe Jacob

- Counselor
In addition to completing his studies, Phil is also a successful road racer on the provincial circuit. He recently joined the team. He is a dynamic and efficient advisor.

Jennifer Cloutier

- Counselor
We are happy to have Jenn back on the consulting team. Quick-witted and spontaneous, clients know they will be well served by her.

Étienne Bélanger

- Junior technician
Etienne continues his apprenticeship as a bike and ski technician in Jean-Christophe's team. His knowledge is constantly improving. He practices road cycling.

Maxence Wasungu

- Junior technician
Max is pursuing a career as a skateboard athlete. He also helps us in the workshop with bike assembly and ski maintenance.

Tristan Larger

- Junior technician
Do you ride a bike from home? Chances are that the assembly was started by Tristan, before being completed by a senior technician. Tristan is precise and fast in his work.